lygkolod
Industry grade AR grade magnesium acetate
1.Chemical Name: Magnesium Acetate
2.Molecular Formula: C4H6O4Mg·4H2O
3.Molecular Weight: 214.46
4.CAS: 16674-78-5 .Einecs:205-554-9. H.S:29152990
5.Character: It occurs as mono-clinic crystal, easily deliquescent. It is easily soluble in water, the aqueous solution is neutral or weak acidic.
6.Usage: It can be used for feed additives and cosmetics, the preparation of magnesium uranyl acetate, the determination of sodium in lab. It can also be used as an analytical reagent such as precipitant , and it can be used as snow-melting agent.
7.Packing:25kgs kraft paper bag line with PE bag. 20'fcl put 20mts without pallet.18mts with pallet
8.Storage and Transport: It should be stored in a dry and ventilative warehouse, kept away from heat , moisture direct sunshine and during transportation, unloaded with care so as to avoid damage. Furthermore, it must be stored separately from poisonous substances and oxides.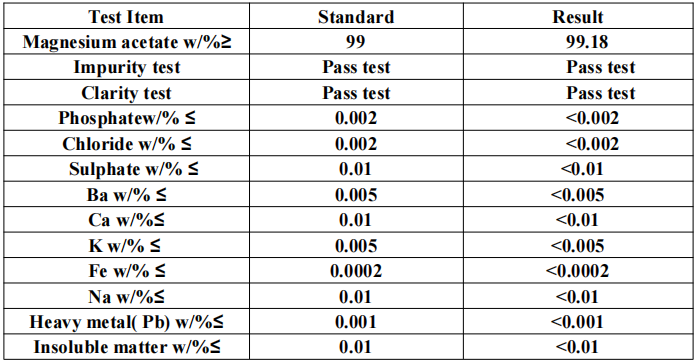 Your cart is currently empty.