lygkolod
Food grade Magnesium chloride hexahyderate
1.Chemical Name:Magnesium Chloride
2.Molecular Formula: MgCl2 ; MgCl2·6H2O
3.Molecular Weight: 95.20 ; 203.30
4.CAS: 7791-18-6. Einecs:232-094-6 H.S:28273100
5.Character: It's white flake or granular crystal. At high temperature, it'll decompose to hydrogen chloride and magnesium oxide.
6.Usage: It can be used to make tofu (bean curd). Tofu with brine (solution of Magnesium Chloride) is far more tender and delicious than with gypsum. It also can be used as food additives in other food industries.
7.Packing: 25kgs/bag line with PE bag.20'fcl put 25mts without pallet
8.Storage and Transport: It should be stored in a dry and ventilative warehouse, kept away from heat and moisture during transportation, unloaded with care so as to avoid damage. Furthermore, it must be stored separately from poisonous substances.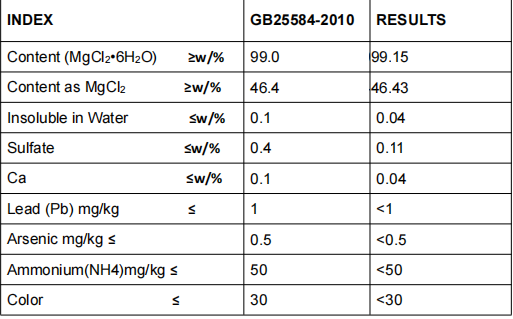 Your cart is currently empty.