lygkolod
Food additive powder Calcium acetate anhydrous
1.Chemical Name: Calcium acetate
2.Molecular Formula: C4H6CaO4
3.Molecular Weight: 158.17
4.CAS: 62-54-4, EINECS:200-540-9 H.S:29152990
5.Character: It is odorless white fine powder with slight bitter test .It's hygroscopic and soluble in water.And it is slightly soluble in ethanol.
6.Usage: It can be used as food chelator, mould inhibitor, flavoring agent and calcium fortifier. It can also be used in the production of acetone
7.Packing:25KGS KRAFT PAPER BAG LINE WITH PE BAG.20'FCL PUT 12MTS WITHOUT PALLET
8.Storage and Transport: It should be stored in a dry and ventilative warehouse, kept away from heat and moisture during
transportation ,unloaded with care so as to avoid damage . Furthermore , it must be stored separately from poisonous substances.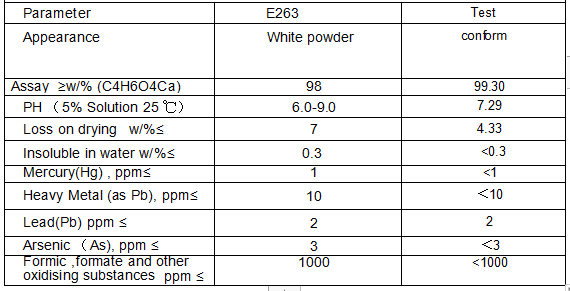 Your cart is currently empty.