lygkolod
BP,USP ,FCCVII SODIUM CITRATE DIHYDRATE
1.Product name: Sodium citrate Dihydrate
2.Formula: C6H5Na3O7.2H2O
3.Formula weight:294.11
4.Cas:6132-04-3 Einecs:200-675-5
5.Character: It's white to colorless crystals, odorless, tastes cool and salty. It is decomposed by excessive heat, slightly deliquescence in humid environment and effloresced slightly in hot air. It will lose crystal water when heated to 150 ℃. It is easily soluble in water and glycerol. Insoluble in alcohols and other organic solvents.
6.Usages: Used as acidity regulator, flavor agent and stabilizer in food and beverage industry, used as an antico=agulant, phlegm dispersant and diuretic in the pharmaceutical industry. It can substitute sodium tripolyphosphate indetergetn industry as the non-toxic detergent additive. It is also can be used for brewing injection, photographic medicine, electroplating and so on.
7.Packing: It is packing 25kgs/bag line with PE bag or 1000kgs jumbo bag. 20'fcl put 25mts with out pallet
8.Specification: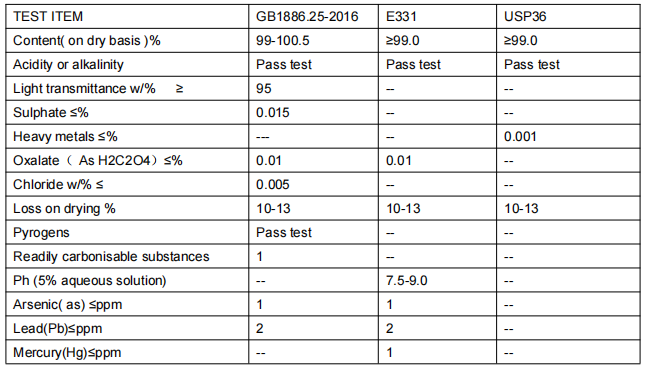 Your cart is currently empty.