lygkolod
BP,USP FCC POTASSIUM CITRATE
1.Product name; Potassium Citrate
2.Formula:C6H5K3O7.H2O
3.Formula weight:324.15
4.Cas:6100-05-6 Einecs:212-755-5 H.S:29181500
5.Character: It is transparent crystal or white coarse powder, odorless and tastes salty and cool. Relative density is 1.98. It's easily deliquescent in air, soluble in water and glycerin, almost insoluble in ethanol.
6.Usage: In food processing industry, it is used as buffer, chelate agent, stabilizer, antioxidant, emulsifier and flavoring. It can be used in dairy product,jelly, jam,
meat and tinned pastry. It also can be used as emulsifier in cheese and antistaling agent in oranges, and so on. In pharmaceutical, it is used for hypokalemia, potassium depletion and alkalization of urine.
7.Packing: It is packed with plastic woven bag line with PE, or Jumbo bag. 20'fcl put 25mts without pallet
8.Specification: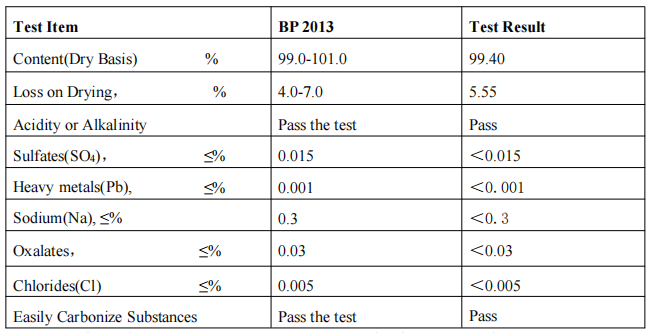 Your cart is currently empty.